Johnny Rockets in Bolingbrook
Posted on: October 26, 2008
Went to Johnnie Rockets today for an early dinner. I ordered the Original, which has: Fresh lettuce, ripe tomato, chopped onions, relish, pickle, mustard and mayonnaise. I also ordered an order of the half fries/onion rings.
My Review:
The balance between the meat and the condiments was imbalanced. Too little meat, while a bit much on the mustard and relish. But that is to be expected of a classic fast food joint. Can't expect a gourmet burger from them. That being said, the burger was fun to eat, and I would definitely recommend it over any MCD or Burger King hamburger, but maybe not over Wendy's. I guess a pattern that may emerge from my present/future ratings is that I prefer my veggies to be served as larger slices/pieces, and not to be chopped up into little pieces.
Score: 6.5/10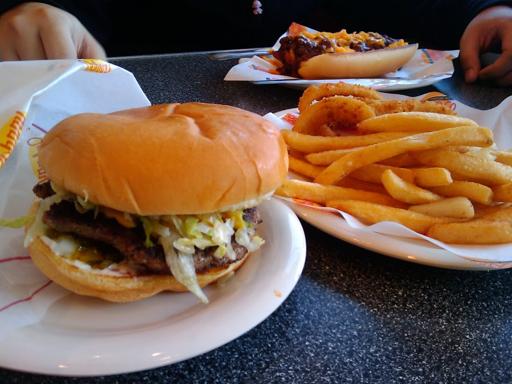 Johnny Rockets
623 E. Boughton Road, Suite 105
Bolingbrook, IL 60440
630-783-9250
As a small note, my friend Woody and I both agreed that the onion rings tasted like ass.