Boston Blackies in the Loop
Posted on: December 5, 2008
Had Boston Blackies for lunch today. This place is literally 3 blocks away from where I work. The lunch crowd always fills the place up. The guy who went in the revolving door before me, didn't even bother stepping into the place, and just revolved his way back out. Haha. My co-worker and I just pushed our way in, since we weren't going to eat there and had already called in for carry-out beforehand. I'll only be reviewing mine since we ordered exactly the same thing, but his with American cheese.
My Review:
I asked for mine to be done medium. And sadly, it came out medium-well. What's sadder is that this is the second time this week that my order of beef came out more cooked than I had wanted. (Earlier this week I had a steak at Lloyd's Chicago and it was closer to well-done than medium-rare).
I want to note that the pictures of the burger look much better than how it tasted. It was just alright overall. I really enjoyed the bun, but the bacon & onions wasn't anything special. The patty itself was over-cooked, but well-sized. The fries, well, they were cold, but that probably wasn't their fault. The weather outside today was really cold. The tomato and lettuce looked fresh, but did not taste as fresh as it looked. I dunno, maybe I was bitter all over still from the bitter cold.
The redeeming part of this meal would be the cole slaw from Carson's Ribs, which comes with all entrees. This Boston Blackie's is located in the same space as a Carson's luckily. As a side note, I would have to say they have the best cole slaw I've ever eaten.
Score: 6.5/10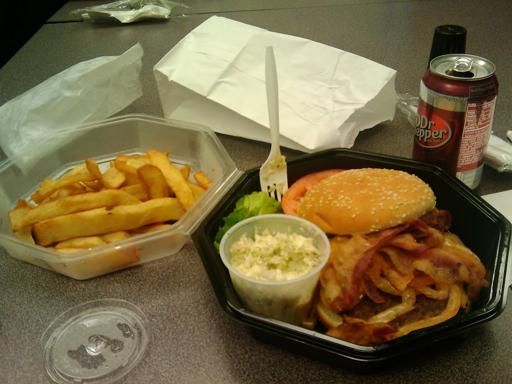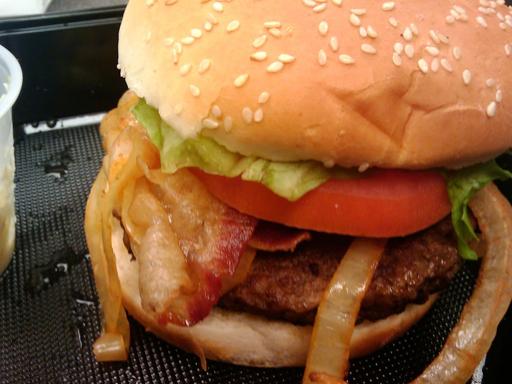 Boston Blackies
120 South Riverside Plaza
Chicago, IL 60606
(312) 382-0700