Goose Island
Posted on: December 10, 2008
Tonight I had Goose Island's "classic burger", the Stilton Burger (without the stilton cheese– yeah I know, but my stomach can't handle cheese so well these days). I also had garlic fries and onion rings. I should note that I ordered it from Diningin.com as delivery.
My Review:
The burger, or I should say my meal, had a ridiculously strong flavor to it. This burger had chunks of roasted garlic cloves on top of a patty that had cracked peppercorn, which was pushed between pumpernickel bread. I really had a hard time finishing this burger because– along with the garlic fries and onion rings, my senses and taste buds were on overdrive. I asked for mine to be medium-rare, yet it came out medium well. Can't anyone make my burger right?
Honestly, my favorite part of the meal was the garlic fries, after brushing off the huge chunks of garlic flakes.
Overall, the taste and presentation was a tad below average for me. The pumpernickel bread was rather confusing in combination with such a strong flavored burger. It just didn't make sense for me.
Score: 4/10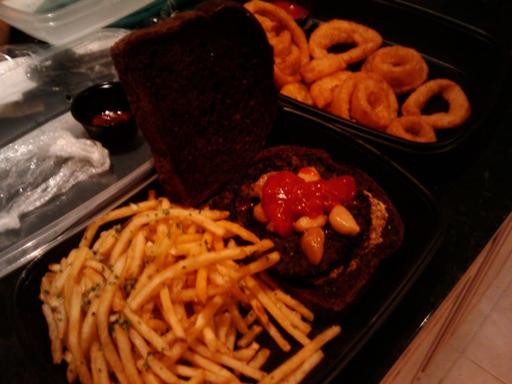 1800 North Clybourn in Chicago.
312.915.0071