Paramount Room
Posted on: December 22, 2008
Went to Paramount Room with some friends to watch the Bears/Packers game. I've been here several times already and their food in general is pretty spectacular.
My Review:
I had their House Burger (Wagu Kobe Beef burger "dressed" with romaine, red onion, Beefsteak tomato and Paramount Room's special sauce). I added apple-wood smoked bacon, sauteed mushrooms, and a fried egg to it. And I asked for it to be cooked medium. The burger is simply awesome. No complaints whatsoever.
The meat was delicious; the lettuce, tomatoes I ate on the side– and which were very fresh and in proper amount. The bacon was excellent with the egg (made me forget I was having dinner instead of breakfast!). The mushroom I didn't taste so much since I already had a lot going on in this dish already. Possibly the only drawback was that the bun was just okay. It didn't add or take away from an already great dish.
I also replaced the fries with Tempura Fried Green Beans, that came with a special Spicy lime-chili dipping sauce. This was so ridiculously tasty and yummy, I also ordered it as an appetizer for the table.
Score: 8/10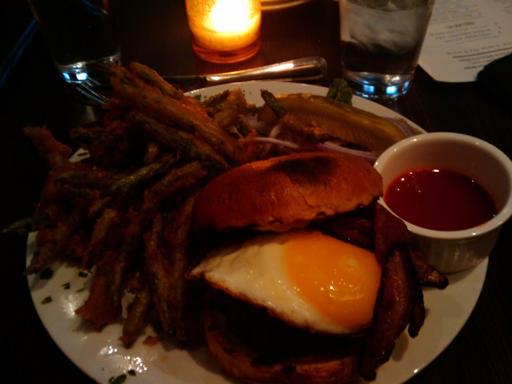 Paramount Room
415 North Milwaukee Avenue
Chicago, IL 60654