Weber Grill
Posted on: December 18, 2008
I ordered dinner from Weber Grill tonight. The weather is supposed to be crappy, and I signed up to attend a Dark Knight live commentary with Christopher Nolan through my PS3. So this was another delivery via DiningIn.
My Review:
The burger patty is probably one of the best hamburger meat I've ever had, and it was actually cooked medium-rare, as I ordered! The buns, lettuce, and tomato were all soggy… but all small issues and quite understandable considering it was delivery. But the patty, I must say was absolutely delicious. Almost like a steak.
I also had onion curls and french fries. I must say that I'm starting to dislike onions in general. Their taste isn't that great and they just smell bad. But the fries, were very very good, some of the best fries I've had in my life.
I would definitely eat this burger again. I would love to see how it would taste fresh right in the restaurant.
Score: 8/10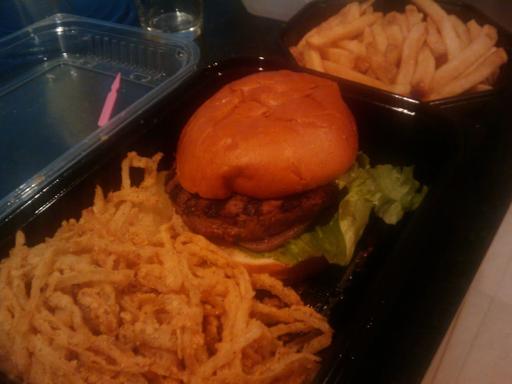 539 N State St
Chicago, IL 60654
(312) 467-9696