Select Cut
Posted on: January 10, 2009
I always find it odd to go to a steak house and order a hamburger. I should really order a cut of steak, but instead, I order a burger. Haha, it just shows my dedication to this hamburger blog. Yesterday, Ben and I headed out to Select Cut, this time it was Ben's pick.
My Review:
Their burger is a 1/2 lb Steak burger ($8.50) and can be found in their sandwich section on the menu (Yes, I had a hard time finding their burger). It was very tempting to order their New York steak sandwich instead, which was only $1 more. It comes with a slice of tomato, 2 pieces of lettuce, a slice of onion, a pickle, and some delicious steak fries. I ordered mine medium-rare (just because I know they would get it right, it is a steak house).
My burger was very clean and tasty. I can tell that the meal was prepared with health, balance, and a strong emphasis on the meat in mind. I thoroughly enjoyed my burger, and I found out that it was just better to take a few bites of the burger consecutively before taking a bite of something else (pickle, fries, or water for example). With each consecutive bite, the burger just tasted better and better . Maybe I've been missing out on this experience my whole life as I generally like to take bites out of everything on my plate pretty evenly throughout my meal.
There was only one thing I thought was missing: a little extra flavoring. Maybe they could have added a little spice to it, or maybe something as simple as mayo would have been enough. I just thought everything was so good; the meat, the buns, the condiments, but it felt as though it could have used one more ingredient to make it even better. In many ways, I found this burger reminiscent of the burger I had at Pete Miller's, only that these guys had better beef.
I apologize for the dark picture, as my camera phone does not have a flash.
Score: 7/10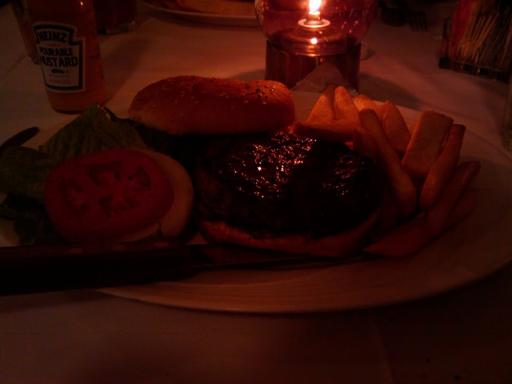 2808 N. Halsted St.
Chicago, IL 60657
(773) 244 - 1500