Kuma's Corner
Posted on: April 19, 2009
Finally, after several failed attempts, we went to Kuma's Corner. The previous attempts, the wait was just ridiculous or it was closed. But last night, or rather today technically, at 1am we went there to get our Kuma burger. Our backup plan each of those times was to get Korean Fried Chicken either at Crisp or Great Seas Restaurant.
My Review:
The famous Kuma burger has a fried egg and bacon in it (no cheese in mine). It's probably one of most delicious burger I've had, and at least the best "original" burger I've ever had. I've seen them make these burgers, and I must say it's really all in the meat. They must have some kind of special hamburger prep spices/peppers because it's just unlike anything I've tasted anywhere. Not to mention that their patties are just so juicy and fresh.
I've also tried the following burgers there:
Slayer - Pile of fries topped with a ½ lb. Burger, Chili, Cherry Peppers, Andouille, Onions, Jack Cheese, and Anger
Iron Maiden - Avocado, Cherry Peppers, Pepper Jack, Chipotle Mayo
High on Fire - Siracha Hot Chili Sauce, Prosciutto, Roasted Red Pepper, Grilled Pineapple, Sweet Chili Paste
I must say that as much as I enjoyed their "original" Kuma burger, I like their other burger plates even more. My favorite so far has been the Slayer burger, with all it's delicious spices. A close second, almost a tie, would be the High on Fire with the pineapple slice dipped in Mae Ploy sauce.
This place may very well be the best burger in Chicago.
Score: 9/10
The Kuma Burger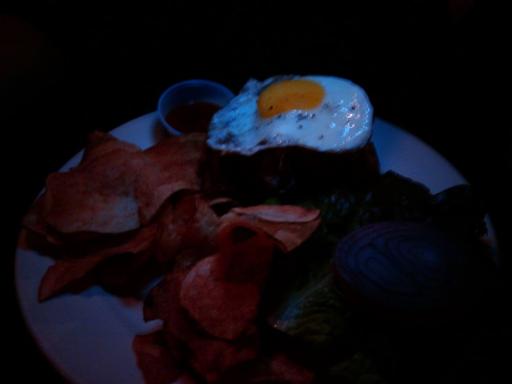 High on Fire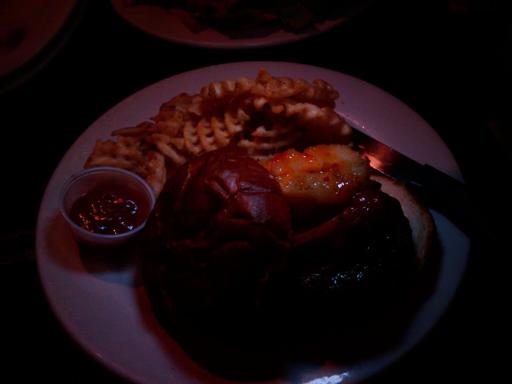 Kuma's Corner
2900 W. Belmont Ave.
Chicago, IL 60618
Ph. 773.604.8769