Busy Burger
Posted on: August 17, 2009
Ben and I finally went out for some burgers after a very long hiatus. So we went to check out Busy Burger. We enjoyed our burgers outside in the damp weather.
My Review:
The burger was just ok. But what can you expect when the meal (burger & fries) cost like $5.65. It meat was well done, lots of onions, and decent amount of ketchup and mustard. It's a nice summer burger to enjoy if you are in the neighborhood (Little Italy), but not worth the time to go there if aren't in the area.
Oh, the Italian ice (orange flavored) on the right is from Mario's, just 1 block east of Busy Burger.
Score: 6/10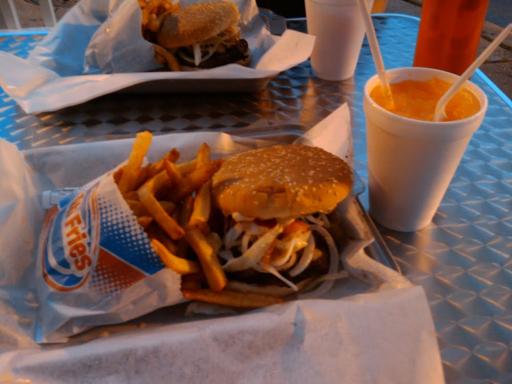 Busy Burger
1120 W Taylor St
Chicago, IL 60607-4214
(312) 226-7760
Marios Italian Lemonade
1066 W. Taylor Street
Chicago,IL 60607