Best Thai Restaurants in Chicago
Posted on: February 1, 2012
I've seen a lot of blogs and reviews of Thai restaurants in Chicago, but not nearly enough on the places I consider to be the best of the city. None of my favorites are ever reviewed by foodies! Hopefully this blog post will remedy that.
There are certain places that are visited often by word-of-mouth, passed along through the Thai community. This post will highlight places the Chicago-Thai community really enjoys. I hope these places get more attention, as they should be considered *authentic Thai *and at the very least, super delicious.
My 3 Favorite Thai Restaurants:
Aroy Thai (my post)
4654 N Damen Ave
Chicago, IL 60625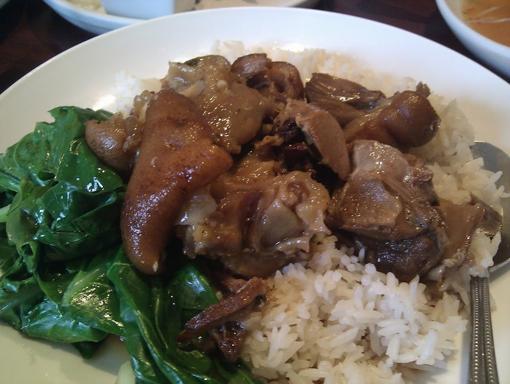 I like how this place offers khao kha moo (pork leg stew, seen in picture above), my most favorite Thai dish! This is not a common dish served in Thai restaurants, so I highly recommend ordering it.
Siam House (yelp) (my post)
7742 North Milwaukee Avenue
Niles, IL 60714-4707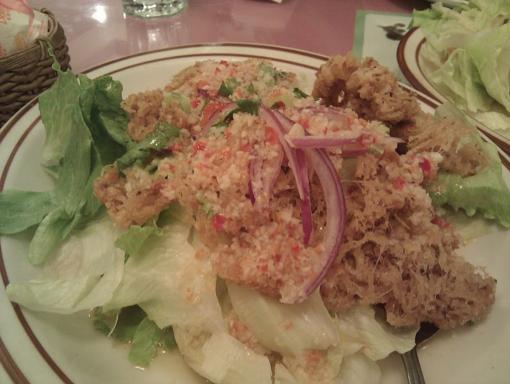 To date, they have the best yum pla dook foo (catfish salad, in the picture above) I've ever encountered in Thailand and the US!
Sticky Rice
4018 North Western Avenue
Chicago, IL 60618-3727
[No picture taken here, yet. Sorry.]
This is for northern style Thai food. I like their northern sausage and khao soi.
Thai Restaurants my Thai Friends Recommend:
Dharma Garden
3109 W Irving Park Rd
Chicago, IL 60618
I've only heard of this place for late night karaoke, but apparently they serve food too. Friends recommend the pad see ew.
Manee Thai
1546 West Chicago Avenue
Chicago, IL 60642
MeDee Cafe
4805 N. Damen
Chicago, IL 60625
Recommended dish: Congee.
Rosded (yelp)
2308 West Leland Avenue
Chicago, IL 60625-2021
Recommended dishes: guiy-tiew or poh-pia-sod.
Siam Noodle and Rice
4654 North Sheridan Road
Chicago, IL 60640-5020
I think this place has been around forever.
Tac Quick
3930 North Sheridan Road
Chicago, IL 60613
Recommended dishes: sai krok isan, yentafo, or goong-chae-nampla.
Thai Avenue
4949 N Broadway St
Chicago, IL 60640
I've been here several times, and everything here is good. Some of the Thai friends straight from the motherland claim some of the dishes here are just like from home.

So in general, if you are in Chicago and are looking for the best Thai restaurants, head north of the city.  I have some Thai dishes with their Thai spelling. If you don't know what they are and don't know how to order it, don't be afraid to print or write down the spelling and bring it in to show the server/waiter.
If you are foodie and/or have a blog, please check these places out!
Special thanks to my friends for helping me put this list together.