Looking Back On 2012
Posted on: January 17, 2013
So 2013 is here. Sorry, I had ten posts that spilled into this current year from 2012, but I did eat out quite a bit during the last two weeks of last year and I didn't want to miss out on sharing those pictures.
Last year was a great year for me as a foodie. I ate variety of foods in different cities. Not as much as 2010 or 2011 since those were the years I traveled a lot (distance-wise), but living here in Los Angeles has exposed me to a larger variety of cultures than when I lived in Bangkok, Thailand.
I took more pictures of food than any other year to date, although not all of them made it into the actual web albums. I actually had to split the pictures into separate albums since Picasa still has a stupid one-thousand picture limit per album. Stupid I tell you. I took over 1500 pictures of food in 2012!
I also grew as a food photographer more than any year.
In 2010 and 2011, I was by in large still using my camera phone to take pictures of food. I was also still using the on-camera flash too, which in general overexposes and drowns out the color of dishes.
In 2012, I stepped up to using a Canon 60D and even upgraded to a Canon 5D Mark 3 full frame camera around mid year. You can say this was my first full year of using a DSLR for the majority of my food pictures! I shot mostly in RAW format and post processed in Adobe Lightroom 4. I tend to look back at my older pictures with some level of disgust at how awful the pictures are with noise or cropping.
Also, in 2012 I switched over to using a more square crop of my food pictures just because I find it to be more symmetrical and balanced for social sites such as Foodspotting and Facebook. It's default crop now for food photographs as it fills the frame much better and I find tells a better story if there's going to be a stack of photos from a restaurant.
Here is a collage of some of my favorite shots and dishes from 2012: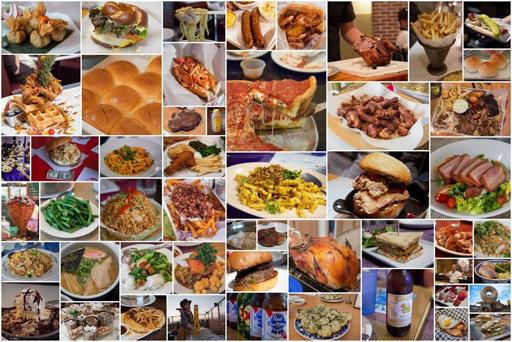 I look forward to 2013. I have a feeling I won't be taking as many photos, as I'm now aiming for better quality, not quantity. Cheers!
More past albums: